DREDGING AND BUOYAGE PROJECT FOR THE URUGUAY RIVER, FROM KM 0 TO KM 206.8 PORT OF PAYSANDU (UR), INCLUDING THE ACCESS CHANNEL TO THE PORT OF CONCEPCIÓN DEL URUGUAY (AR)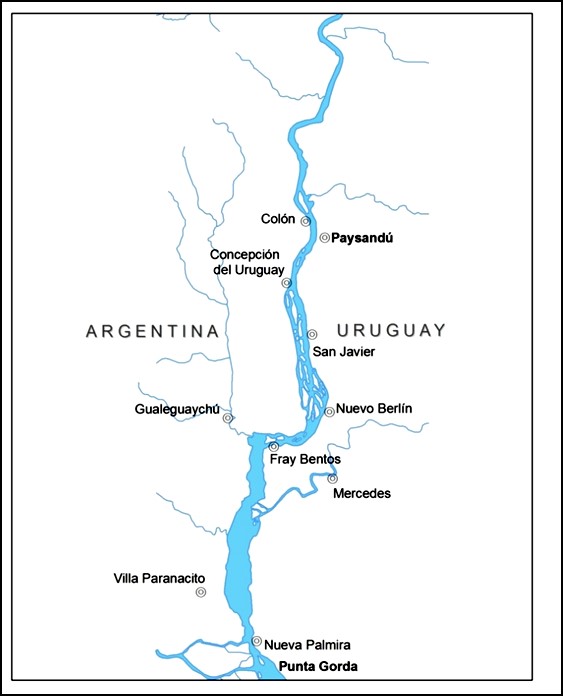 Project for dredging and buoyage the Uruguay River from its river mouth in the Río de la Plata to Km 206.8 Puerto de Paysandú (UR), including the Access Channel to the Port of Concepción del Uruguay (AR), for transport by vessel oceanic. The Nueva Palmira-Concepción section was designed for the navigation of a Pánamax type vessel, 224 m long and 32 m wide with a draft of 23 feet, and the Concepción-Paysandú section for a 190 m long ocean vessel with a draft of 17 feet. From this project there are a series of works already executed.
The service included the following activities:
Field surveys (bathymetries, hydrometric measurements, study of the subfund soils, water and sediment sampling, installation of current recording equipment, etc.).
Studies and project of dredging in steps with soft bottoms and hard bottoms.
Signaling project.
Hydraulic and hydrosedimentological modeling.
Metric Computations and budget of the works.
Elaboration and execution of the Communication Plan of the Project for Social License with implementation of Community Participation actions and workshops.
Environmental Impact Assessment (EIA) and Monitoring and Management Plan.
Bidding documents for the works.