TECHNICAL, ECONOMIC AND ENVIRONMENTAL FEASIBILITY, SECTION "NUEVA PALMIRA" PORT (URUGUAY) TO "CACERES" PORT (BRAZIL) (1995-96)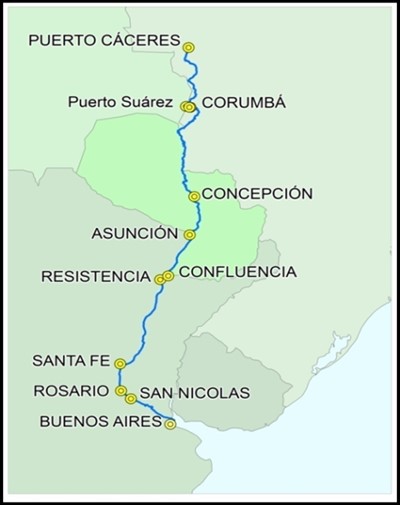 EIH was project leader in the Paraná Paraguay Waterway, which extends for more than 3,400 km linking the Río de la Plata with the city of Cáceres in Mato Groso (Brazil), under the jurisdiction of five countries: Argentina, Brazil, Paraguay, Bolivia and Uruguay.
This waterway constitutes one of the main routes of navigation on the continent, allowing the economic transport of large volumes of grains and other cargo. Its importance is transcendental for the economic development of the region, favoring the population that is directly or indirectly related to this activity and contributing to the growth of the economies of the countries.
For its study and design, the navigation of Jumbo-type barge convoys in different assembly alternatives was considered. The objective of the study was to obtain the alternative of improvement works for navigation conditions that minimize transportation costs through the waterways.
In summary, the works included:
Field surveys from Santa Fe to Cáceres (Pantanal do Brasil), including bathymetric surveys, hydrometric measurements and geophysical surveys in passes with the presence of hard bottoms.
Hydrological and hydraulic studies.
Study of the navigation steps.
Design of the navigation channel.
Project of dredging works in soft and rocky soils
Design of the signage in the steps.
Studies of supply and demand for cargo.
Quantification of investments, economic and financial evaluation.
Environmental studies.
Studies of the existing port infrastructure and equipment.
Analysis of the organizational structure for the administration and operation of the waterway.
Complementary river works projects.
Bidding documents for the execution of the works.