Sedimentological studies in models for deepening and / or alternatives in the channels of the trunk route in the Río de la Plata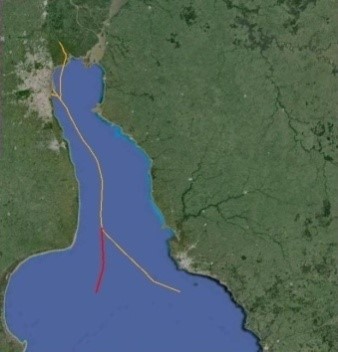 In the Trunk Waterway, Santa Fe – Oceano, EIH has had various interventions in the Feasibility and Preliminary Studies in all the sections that make up this waterway in the Río de la Plata, conducting studies for deepening dredging and studies of route alternatives that involve the Punta Indio, Intermediate Canal, Access Canal and Emilio Mitre Canal channels, that is, from the entrance of the interoceanic transport to the Río de la Plata to the river section of the Paraná de las Palmas.
All the works include campaigns to measure hydrographic and sedimentological parameters and the application of mathematical modeling techniques in two and three dimensions (2D and 3D). In the field measurements, bathymetries, anchoring of currents to record currents, sediment sampling, turbidity determinations, tidal levels and waves were carried out.
The objective of these studies was the analysis of the sedimentation conditions and the quantification of the volumes of maintenance dredging due to deepening of the channel or changes in alignment and alignment, and at anchoring and waiting sites of vessels operating in the system.
It also included the identification of the areas for emptying the materials to be dredged and the study by modeling the turbidity plumes and the impact on the environment of the discharges.
They stand out:
Deepening to 36 and 40 feet in canal CANAL PUNTA INDIO, BANCO CHICO, INTERMEDIO AND RADA EXTERIOR (LA PLATA) (2005)
Deepening to 36 and 40 feet in sections ACCESS AND CANAL EMILIO MITER (2001) This includes the study of the behavior of enclosures or wells for discharge of suction dredgers due to the shallow depth of the canal environment.
Study of Alternative Routes to the PUNTA INDIO CANAL (1998).
It should be noted that EIH also carried out hydrosedimentological measurements and studies for the re-drainage and control of the works of the Emilio Miter Canal, prior to the concession period that began in 1995.